Outdoor photography can be incredibly rewarding. Not only can you capture rare moments of beauty in Mother Nature, but you can also simply enjoy the fresh air yourself.
But photographing in the outdoors comes with its own risks and hazards. You may be hiking mountainous terrain or positioning your tripod right in the path of oncoming waves.
Considering the challenging nature of outdoor photography, it's handy to have a few additional camera accessories that will help protect your equipment and keep you comfy.
A camera holster or strap for comfort while hiking
When you're shooting outdoors, there's a high chance you'll be walking around a lot. Investing in a comfortable camera holster or strap is the best way to avoid strain or pain.
BlackRapid and Peak Designs both have a range of impressive camera straps and clips designed for all-day comfort by distributing the weight while you carry your camera.
These accessories come in a range of designs and different ways to carry your camera. But some of our favourites include the BlackRapid Sport Breathe Camera Strap, designed to be draped across the body, and the Peak Design Capture Clip, which clips onto the shoulder straps of your camera bag.
Camera backpack for safe storage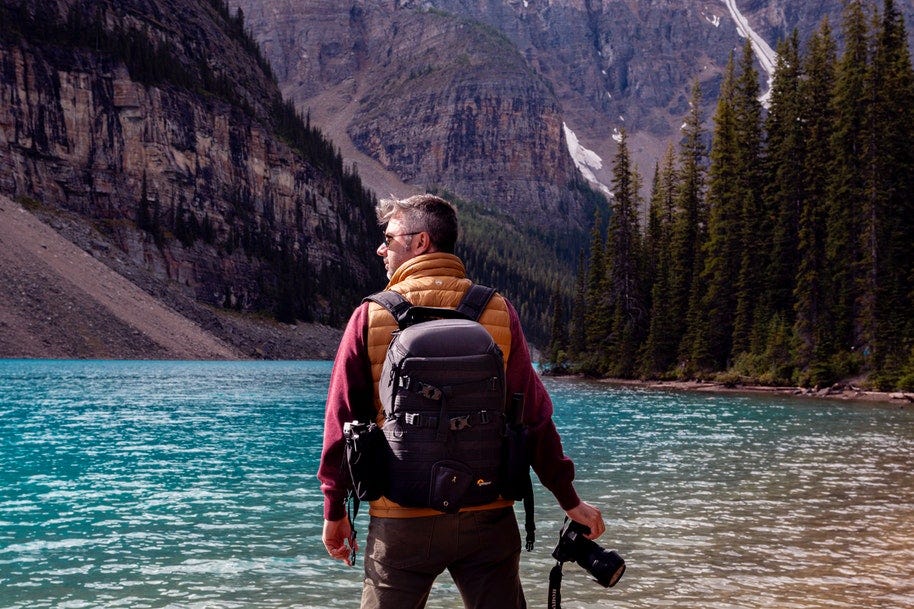 If you're a dedicated outdoors photographer, you're going to end up shooting in all weather conditions. And you're going to need a sturdy, rugged backpack that will snugly fit everything you're carrying.
We love the Lowepro ProTactic BP 350 AW II backpack, which has enough room for two DSLRs with two zoom lenses attached, as well as six additional lenses, a 13-inch laptop, and plenty of other accessories.
Lightweight tripod for landscape photography
Every photographer hits a point where their photography will not improve further without a tripod.
In outdoor photography, it's particularly important to have a stable camera, especially if you're experimenting with long exposures to create smooth skies or water.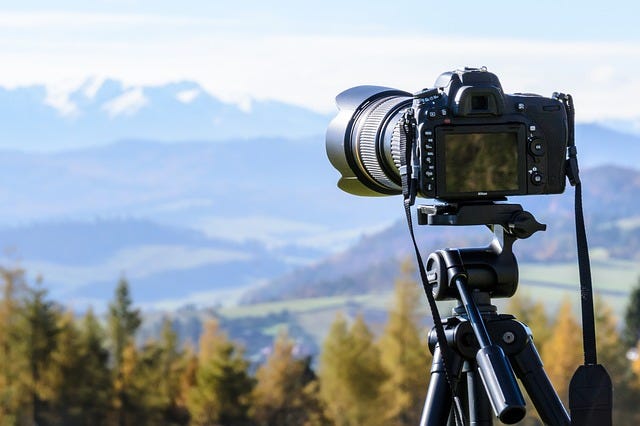 The type of tripod you'll want all depends on the type of photography you're doing. If you drive to each location, the Manfrotto MK055XPRO3-BHQ2 tripod is made of a sturdy and strong aluminium to withstand the elements.
But if you're a traveller or a dedicated hiker, you might want something more compact and lightweight. A trusty Joby Gorillapod may do the trick for action cameras and other light cameras.
An ultra-handy novelty is the Manfrotto Off Road aluminium walking sticks, which are some of the lightest poles in the market but also feature a camera mount on one of the handgrips so it doubles as a monopod.
A camera cleaning kit for protection
Outdoors, your camera equipment will be far more vulnerable to the elements. And nothing ruins the quality of a photo like dirt or grime on your lens or dust on the sensor.
ProMaster's OC Lens Tissue Book is a great accessory to have on hand, coming with 50 sheets of soft tissue safe for any optical lens surface.
A blower helps remove dust and dirt particles on the camera while a microfibre cloth is ideal for everyday cleaning. Of course, no photographer's kit is complete without a LensPen.
Lens filters for superior photography
If you want to level up, a lens filter is a great way to expand your outdoor photography skill set.
Filters can adjust colour temperatures, create special effects, cut out light, and perform so many other creative feats.
Landscape photographers particularly like neutral density (ND) filters and circular polarising filters.
ND filters reduce the light entering the lens by several stops, making them a perfect choice for long exposure shots, such as when you're capturing waterfalls. They will help you avoid over-exposing your shot if there's bright ambient light.
Circular polarising filters change the way your lens receives light. They eliminate reflections or glare from surfaces such as water or glass. They also darken blue skies.
Rain cover so you can shoot in rain, hail or shine
Some of the best photos come from the moody shots taken when the sky is full of thunderous clouds.
But of course, capturing these atmospheric photos comes with a risk of getting caught in a downpour and compromising your precious camera equipment.
The Peak Design Shell protects your camera from both water and dust. Fitting neatly over your camera, it helps you get closer to waves and waterfalls without risking wetting your camera – and it serves as an extra layer of protection when the camera is stored as well.